MegaBolt - Multi-Function High Performance Torch
L/HBOLTMEGA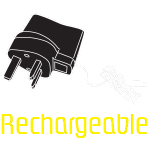 Description
The 'award winning' original Lighthouse Bolt has now evolved into an even more useful light that will appeal to both trade users and home owners everywhere.
It is innovative and packed with features and benefits using the latest materials and LED lighting technology. You can angle one head and work hands-free, or detach the head and have two torches if there are two of you.
This versatile three mode rechargeable torch can function as a powerful spotlight, a long lasting worklight or a hazard warning light. At one end of this multi-function torch is an extremely powerful 3 watt Cree LED spotlight. This works as a traditional torch with a super bright 120 Lumen beam and lasts for up to four hours on a single charge.
The opposite end features a 30 LED tilting head worklight that can be set to your desired angle, enabling you to work hands-free whilst the workpiece is illuminated. This end worklight may also be detached and used as a standalone light. When detached it works with 3 x AAA batteries. It has an integral folding stand which can double up as a hook, and a magnetic back for use on metal surfaces.
A red flashing 16 LED function is also available that can be used as a warning lamp should the situation arise. The 'MegaBolt' is fitted with a high performance Li-ion battery that is lightweight but powerful, providing long run times per charge. The detachable worklight requires the addition of three AAA batteries to function when removed from the main torch body. The tough ABS casing is both water and impact resistant and has a retractable handle for easy storage. The 'MegaBolt' torch is ideal for use at home and at work and is perfect for leisure activities such as camping and fishing trips.
Ideal for the following users or applications: Home and garden, Outside work areas, Garages, lofts and sheds, Camping, fishing and festivals, Roadside emergencies (the red flashing light only to be used in addition to a warning triangle), Security guards, service engineers, Construction and machinery workers who need to work hands-free or in restricted access.
Features:
Three function high-performance torch.
High power 3 watt CREE LED Spot beam.
Super bright detachable 30 LED work light.
16 flashing red LED safety light.
Friction swivel head ensures the light is always where you need it.
Design makes it resistant to rolling.
Knock resistant rubberised end.
Handle recedes into body for neat storage when not in use.
Heavy-duty Li-ion high performance rechargeable battery.

Instruction Manual
Specifications
Mode
Spot
Worklight
Red Flashing
Brightness
120 lumens
35 lumens
-
Run time
4 hours
5 hours
35 hours
Light source
CREE LED
30 LEDs
16 LEDs
Dimensions
135 x 260mm
Weight
1.05kg
Battery
3.7V 2200mAh Li-ion rechargeable
Charger
YH-BS350600300D, 230-240v AC 50/60Hz, 6V 300mA
Supplied with
Carry strap
Mains & in-car chargers
List Price
| | |
| --- | --- |
| £53.99 exc.VAT | £64.79 inc.VAT |
| €62.63 exc.VAT | €77.03 inc.VAT |

Buy Online from Toolbank
Reviews