elite
Power-Torch 4 Mode Torch - Rechargeable
L/HEPOWER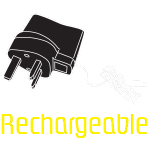 Description
The Lighthouse Elite rechargeable Power-Torch is packed with a host of innovative features to support a number of trade, leisure and personal users. It has the very latest technology 5 Watt CREE, high performance LED which provides a lifespan of 100,000 hours.
This torch has 4 functions: High power, low power (so as not to dazzle people who may be working in close proximity), strobe and (by holding the button for 3 seconds in strobe mode) S.O.S. You can also extend the front lens sleeve to reveal a 360° floodlight. All 4 functions (modes) can also operate when the torch is used in this way. This provides a number of user benefits as you can then use the torch either as a nightlight when camping etc., to light a room during a power cut, or to enable you to work hands free on site, at home or in the workshop.
The light has a hard-anodized anti-abrasive body which has been precision engineered to provide comfort and grip. This innovative torch is rechargeable and has an in-built rechargeable 3.7 volt 4,000mAH battery. 4 blue indicator lights show you how much charge there is in the torch before you use it. There is a USB port in the body, and a charger and lead are supplied.
The port on the body of the torch will enable you to charge personal items such as MP3 players and even mobile phones with a compatible lead. This could provide extra peace of mind when working in remote areas, or if running into difficulties out walking and your phone has run out of charge – the torch could give you enough power to make a call. Most new cars have USB connectivity, so this is a torch you can keep in the glove box and always have it fully charged. With the 4 functions and 360° facility, it is ideal for garages, lofts, mechanics, plumbers and engineers who need to work hands-free in restricted areas, as well as having numerous benefits for a number of outdoor leisure activities.
It is supplied with a USB charger and lead.
Features
Latest technology CREE LED
Lifespan of 100,000 hours
4 functions (modes): high, low, strobe and S.O.S
360° Floodlight
Rechargeable
4 blue power indicator lights
Supplied with a USB charger and lead
Can charge MP3 players and mobile phones (a compatible lead with USB end may be required depending on the model of phone or MP3 player)
Specifications
Mode
High
Low
Brightness
280 lumens
140 lumens
Run time
3 hours
10 hours
Beam distance
250 metres
Light source
XPG R5 LED
Weight
312g inc battery
Dimensions
182mm x 45mm
Battery
Li-ion 3.7V 4000mAh rechargeable
Charge time
6-8 hours
Supplied with
USB charger & Lead
Wrist strap
List Price
| | |
| --- | --- |
| £33.75 exc.VAT | £40.50 inc.VAT |
| €39.15 exc.VAT | €48.15 inc.VAT |

Buy Online from Toolbank
Buy 4 torches for a counter display unit.
Reviews
Average Rating:
4.2 out of 5
Excellent torch only drawback appears to be in charging it as previously stated in other review the last blue charging light just keeps flashing even though it had been on charge for 10 hours
Reviewed by Ian Gillespie on 25th of August 2018
Its been good to-date useful when servicing the car or finding that lost bolt etc. Have placed it on charge several times, but have not seen it fully charged yet? with the last blue light flashing its little heart out. However never did like batteries. so this rechargeable version ticks all the boxes. ITS SOLID, AND VERY GOOD QUALITY.
Reviewed by Brian Houghton on 2nd of June 2018
Unrated
Reviewed by Paul Martin on 22nd of August 2017
I just got this torch for my birthday, and it is very good apart from the charging does not work with my iPod touch, or rather it says it is charging for a second then stops. I don't think the charging slot is made very well as it is very stiff when you try to get the USB of my Apple Lightning charger in the slot. Some explanation and/or compensation via the email I gave to write this review would be nice, but as it was a present I might not be able to get a reciept...
Otherwise quite a nice torch, just seems to need some fine tuning.
Reviewed by Hugh P. on 4th of January 2016
What can I say this torch is underestimated, the most robust and bright torch I've owned and the extra features are just an added bonus, when camping and fishing, or just walking the Dog in the evening, battery life great too, and to top it off value for money.
Reviewed by Neil whitelaw on 25th of December 2015
This torch is very well built with a nice feel in your hands,
as i live by a beach it comes in very handy for late night fishing as the lantern function gives me more than enough to see my line.
The main beam is very bright.
The recharge function seems to work on my compact camera but wont charge my phone,tablet,or portable speaker or it would have got a 5 star.
Reviewed by simon anderson on 21st of December 2015
Similar Products